Here we list publicly funded projects from the last 5 years
Projects at University of Girona
Knowledge development for the future use of nanocellulose in a sustainable and competitive paper industry in Spain (CON-FUTURO-ES)
grant number: PID2020-113850RB-C22
funding agency: National Research Agency – Ministry of Science and Innovation
start date: 01/09/2021
end date: 31/08/2024
CON-FUTURO-ES focuses on innovative research that will create prospects for economic (improved competitiveness of the paper sector) and societal applications (next generation of paper products). The project scientific objectives build upon and offer a substantial added value to the international state-of-the-art.
Despite the excellent properties of NC and the high interest showed by the research and industrial community, the NC market is still far from reaching its full potential at industrial scale. Research, in the last decade, has been focused on the production of NC and their characterization, as well as on the development of knowledge and prove of concepts to improve the properties of the final products.
Despite so much fundamental research, little is known about the effectiveness (or side- effects) of the NC application on a larger scale as in paper and board production. This justifies the high number of non-successful industrial trials, which are related to the side effects of NC production and application. Therefore, more specific research is required to fulfil the industrial needs related to NC production process, control and optimization, the effects of NC in the papermaking process and, finally the recyclability of NC contained papers. These issues are related to process stability and competitiveness and prevent the implementation of NC at industrial scale.
CON-FUTURO-ES is a three years project structured in 5 Work Packages (WP): encompassing NC production monitoring, control and optimization, with different pre-treatments routes and fibrillation strategies; how to implement NC in papermaking production processes; new NC coated papers for replacing single use plastics, closuring the product life cycle with recyclability studies of NC-containing papers, and, finally, technical guides and protocols for industry will be elaborated, based on the results obtained at the four previous WPs.
The results of CON-FUTURO-ES will clearly contribute to: i) the development of environmentally friendly paper solutions, with the development of biodegradable and recyclable paper products replacing single use plastics; ii) the improvement of recycled paper products' quality and fibers life; and iii) the replacing of non-biodegradable polymer coatings.
The impact on the Society will be the development of new bio-based products, consolidating the University-Industry cooperation to minimize the risk of innovation.
Knowledge valorization and transfer for the implementation of nanocellulose in the paper production process (VALORCON-NC)
grant number: PDC2021-120964-C22
funding agency: National Research Agency – Ministry of Science and Innovation
start date: 01/12/2021
end date: 30/11/2023
The VALORCON-NC project is conceived with the purpose of valorizing and transferring the obtained results by the research teams from the University of Girona (UdG) and the University Complutense of Madrid (UCM) in the frame of the coordinated project NANOPROSOST (CTQ2017-85654-C2-1-R and CTQ2017-85654-C2-2-R), as well as responding to the demands of the papermaking industry and offering two case studies, specific but representative at the same time, both at national and international level.
VALORCON-NC will boost the transfer of the generated knowledge and results in the NANOPROSOST project, from the RETOS2017 call, to the papermaking industry.
The project is structured into 5 activities, covering the required development for the conversion of the obtained results in the NANOPROSOST project (Activities 1 and 2), demonstration at semi-industrial scale and development of technical project (Activity 3), results protection, valorization and transfer actions (Activity 4) and formation in terms of innovation and results transfer, both for the research team and professionals from the papermaking sector (Activity 5). Thus, the project encompasses the use of industrial raw materials and real process streams for the production and application of nanocellulose, the validation of the viability of using nanocellulose in the industrial papermaking processes, the conception of the specific dosing, dispersion, retention and drainage systems, and the development of a technical project adapted to the production processes of packaging and security papers that, at the same time, will be easily extrapolable to other relevant actors that might express their interest.
The results from VALORCON-NC will clearly contribute to the development of sustainable solutions for the papermaking sector, allowing an enhancement of the added value of the current products and reaching unconceivable properties with the current systems and processes. It is expected that VALORCON-NC will serve as precursor of future strategies based on nanocellulose at the papermaking industry, contributing thus to the transition towards a circular bioeconomy in an outstanding sector in this field, which has traditionally adopted recycling as a central part of its activities and whose raw material is clearly bio-based and renewable.
Development of self-healing polymeric matrices and composites with reduced impact for application in 3D printing (3DSELFCOMP)
Grant number: PID2020-117802RB-I00
Funding Agency: National Research Agency – Ministry of Science and Innovation
start date: 01/09/2021
end date: 31/08/2024
The purpose of this project is focused on the design and manufacture of a polymeric matrix based on poly (lactic acid) with self-healing and cross-linking capacity for application in the field of rapid FDM prototyping (Fused Deposition Modelling). Specifically, the chemical modification of commercial poly (lactic acid) (PLA) has been proposed by incorporating a chemical functionalization that allows the reaction of macromolecular chains under specific reaction conditions. Thus, based on the proven reactivity of coumarin derivatives, particularly that offered by its unsaturation in alpha; of the cyclic ester, through 2pi-2pi; reaction mechanism, chemical bonding between two independent polymeric chains is pretended by means of UV radiation (360nm) giving rise to a 2+2 cycloaddition. This selfhealing pathway has already been described in other types of polymeric matrices, such as polyurethanes in which the coumarin fragment was introduced into the polymer during its synthesis. In our case, the polymer has already been conceived and the incorporation of the coumarin derivative (7-hydroxycoumarin) is intended by means of a radical reaction between the -CH of PLA and a methacrylic group that has previously been introduced into the 7-hydroxycoumarin through the reaction of the hydroxyl group with methacryloyl chloride. With all this synthetic procedure, two effects are pretended: self-repair capacity of the matrix in which a defect has been generated (fracture) as well as introducing crosslinking capacity into the polymer, useful for the shaping process through the FDM methodology of processing in 3D.
The mechanical properties of a product manufactured using FDM are a function of the properties of the base material and the parameters of the process, since the internal structure of the product and its geometry have a considerable weight. The FDM process creates the shapes from flat sections printed from small extruded cylinders. In this way, the cylinders will show the properties of the base material, but the adhesion zones between cylinders and between layers will be thermally welded and therefore will be weaker. This increases the mechanical anisotropy of materials and makes it more difficult to predict their behaviour under boundary conditions. The project wants to know the dependence of the degree of anisotropy with respect to the internal geometry of standardized specimens and to know if the inclusion of natural reinforcing fibers has a positive or negative influence on the properties of the materials. Also, taking advantage of the possibility of printing specimens with two materials, it will be investigated whether it is possible to increase the mechanical resistance at the same time without compromising its deformation capacity. The use of materials capable of creating cross-link between extruded cylinders can be one way to increase the stability and isotropy of FDM printed products.
With all this argumentation, two targets are planned: the use of PLA beyond single-use applications, through self-healing of the matrix, lengthening its life in use as well as the use of crosslinking capacities to manufacture more stable products or components. and predictable under conditions of use.
Project at IMT Mines Alès, France
Dispersion of cellulose nanocrystals (CNCs) into thermoplastic polymers
Mathieu Bugaut will start a phD in October 2021 supervised by Aurélie TAGUET and Nicolas LE MOIGNE at IMT Mines Alès (Polymers, Composites and Hybrids, PCH team)
start date: October 1, 2021
end date: September 30, 2024
To take advantage of the nanoscale of cellulose nanocrystals (CNCs), their dispersion in thermoplastic matrices remains a scientific and technological challenge. The objective of the present thesis is to study the operating conditions and parameters which would make it possible to disperse CNCs in polymers while ensuring the use of clean processes (melt-processing) and limiting the preparation steps.
Projects at University of Jena, Germany
FunPolyGel – Preparation of Functional Polysaccharide Gels using Selective Synthesis Methods
Grant number:FKZ 2220NR252X
Funding agency:Fachagentur Nachwachsende Rohstoffe e. V.
start date:July 1st 2021; end date:June 31th, 2024
Within the project, innovative hydrogels and aerogels will be developed from polysaccharides that are of great importance in the German agriculture-, forestry-, and food sector (starch, cellulose, hemicelluloses). This will provide a valuable contribution to a sustainable valorization of renewable resources. Goal of the project is to develop novel modular methods for the preparation of polysaccharide based hydrogels and aerogels that will enable tailoring of the material properties and application potential.
Novel polysaccharide derivatives with "complementary" reactive groups will be prepared using modular synthesis concepts. These groups can be converted with great efficiency, under mild reaction conditions (e.g., in water), and strictly chemoselective (i.e., exclusively with the corresponding "complementary counterpart"). The modular concept will be used to crosslink polysaccharides into defined 3D-networks and likewise to introduce functionalities that are of importance for the desired applications.
Hydrogels will be obtained by selective crosslinking of reactive polysaccharide derivatives in water. They will be employed for specific applications or converted into aerogels using suitable drying techniques. The modular synthesis concept provides many possibilities to tune the material properties. Comprehensive structure property relationships will be established as basis for a rational material design. Thus, hydrogels and aerogels can be tailored for specific applications in biomedicine, environmental technologies, and agriculture. Fundamental aspects such as loading / release of active substances, selective absorption of pollutants, storage of water / nutrients, and biological properties (biocompatibility, biodegradability) will be studied. 
University of Jena, Germany – Collaborative research Center 1278 – Multifunctional nanoparticles based on polysaccharides for targeted drug delivery with two-step release behavior
Funding agency: German Science Foundation
start date:July 1st 2021; end date:June 30th, 2025
The overall goal of this project is to develop safe, polysaccharide-based and drug-loaded nanoparticles (NPs) with tissue-specificity that are suitable for clinical translation in inflammatory diseases. Recent results indicate that acetylation of proteins significantly affects the regulation of the immune system and cellular stress responses. Therefore, histone deacetylase inhibitors (HDACi) represent promising molecules to prevent or modulate inflammation- or infection-associated organ dysfunction. However, direct administration of HDACi is connected with low tissue-specifity as well as side effects. Polysaccharide-based expedient drug carriers have been studied in previous investigations. Importantly, a flexible drug carrier system for valproic acid (VPA), which shows rapid cellular uptake, excellent biocompatibility and HDACi-activity, was developed. Thus, VPA remains the primary HDACi of the project. However, to realize a two-step release kinetics, different HDCAi will be covalently bound to the polysaccharide backbone via newly incorporated linkers. Potential linker structures include esters, thioesters, disulfides, and hydrazones that are cleaved under physiological conditions in living cells with different rates. Tissue-specifity of the carrier devices will be realized by functionalization with targeting moieties, e.g. dye molecules, specific peptides or antibodies, focusing on the targeting of liver or kidney. Liver and kidney dysfunction as a consequence of a dysregulated host response to infection are present in life threatening systemic syndromes, such as sepsis or haemolytic-uremic syndrome (HUS). To date, there is a lack of target-oriented organ-specific molecular therapies to improve organ function. As functionalization of polysaccharides with bulky substituents is challenging, polysaccharide derivatives bearing drug- and targeting moieties will additionally be synthesized separately and combined during the NP preparation (Figure A02-1). NPs will be analyzed with respect to cellular uptake, toxicity, biocompatibility and biological activity in state of the art in vitro models, including 2D and 3D liver and kidney cell-culture systems as well as real-time electric cell-substrate impedance sensing (ECIS). In a second step, cells will be subjected to pathogen associated molecular patterns (PAMPs), such as lipopolysaccharide (LPS) or Shiga toxin, followed by NP-treatment, to assess NP effects under pathologic conditions. The targeting strategies will be evaluated with regard to cell type-specific NP-delivery and enhanced drug release as well as efficacy in cells of interest. Promising HDACi-coupled NPs will be further characterized in vivo regarding their safety and their therapeutic potential in suitable disease models.
Projects at Petru Poni
Sergiu Coseri-project director: Highly sensitive immunoassay device, based on natural resources; Acronym: HISENSE
Grant number:
PN-III-P2-2.1-PED-2019-0169; CNCS/CCCDI
Funding agency:
Ministry of Research, Innovation and Digitization,
UEFISCDI Romania
start date: 2020, end date: 2022
In the last years, significant progress has occurred in information technology, sensors, and materials science. In medicine particularly, a timely fashion detection of a certain disease and accurate diagnosis is crucial. HISENSE project envisions point-of-care biosensors as a future tool and proposes a new approach to fabricate such highly sensitive biosensors to detect proteins. The strategy involves the activation of cellulose substrate, by a nanostructured engineering procedure to selectively introduce a high amount of carboxyl groups, followed by anchoring specific moieties which will eventually act as a triggering sites for the specific detection and immobilization of proteins. Two proteins were used as a model analyte to fabricate the immunosensor, i.e. human IgG, and bovine serum albumin. The proposed biosensor may exhibit a good specificity, stability, and reproducibility. Our strategy may pave a simple way to fabricate highly sensitive immunosensors for a wide range of applications.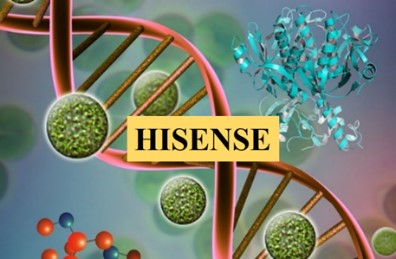 Sergiu Coseri-project director: Expanding cellulose's boundaries towards the fabrication of superior proton conductive membranes for fuel cells); Acronym: EXCELLFUEL
Grant number:
PN-III-P4-ID-PCE-2020-0476
Funding agency:
Ministry of Research, Innovation and Digitization, CNCS/CCCDI – UEFISCDI Romania
start date: 2021, end date: 2023
The design of chemically stable proton conductive membranes with high selectivity for application in fuel cells remains a significant challenge. In our project, we propose a new approach to construct proton conductive membranes based on a cheap, abundant, and renewable resource, based on cellulose. Our strategy involves firstly, selective oxidation and functionalization of cellulose, in order to increase its versatility, by introduction high amounts of carboxylic groups, able to serve as active sites of proton conductivity.
Besides, nanocellulose prepared from agricultural wastes will act as a redoubtable reinforcing agent as well as providing high proton conductivity. Moreover, this matrix will incorporate different nitrogen-containing heterocycles. These heterocycles are "dry" proton conducting ionomers which can substitute water because they form similar hydrogen bond networks as water. The complex interactions between the polymeric matrix (abundant in the COOH and OH groups) and the low molecular weight heterocyclic dopant, bearing nitrogen atoms and double bonds, create favorable prerequisites to realize new materials with conductive properties. The replacement of water by heterocycles should result in the cellulose based composites characterized by the conductivity in the intermediate temperature range (over 100oC), under anhydrous conditions, desirable for various electrochemical devices, and are relevant in modern material science.
Project at VTT
Technical Research Centre of Finland Ltd, Solutions for Natural Resources and Environment
INN-PRESSME
Funding agency:European Union's Horizon 2020
The "European Green Deal" provides a roadmap and an ambitious package of measures for creating a sustainable and green European economy, with zero net emissions by 2050. The latter provides "a future-oriented agenda for achieving a cleaner and competitive Europe in co-creation with economic actors, consumers, citizens and civil society organisations." The INN-PRESSME Open Innovated Test Bed (OITB) provides a twofold approach to support European companies in reaching the ambitious objectives:
Developing new market-ready products and goods, from bio-based materials, by feedstock conversion. Nano-enabling will make these materials reach and exceed performances of current fossil-based materials. All materials at TRL7 will be environment-friendly according to circular economy principles.
Support the digital transition by providing companies with all data and life cycle value chain modelling tools, compatible with an industrial production move to TRL9, from feedstock conversion to material processing. This is key in maximising the use of feedstock materials in the circular economy.
More info click here
Project at the Mediterranean Institute for Agriculture, Environment and Development from the Algarve University (MED-UAlg),  Portugal 
REviving agroFLOrestal RESidues: from intermolecular interactions in natural Polyphenols to new biomaterials of added value.
Grant number: PTDC/ASP-SIL/30619/2017
Funding agency: Portuguese Foundation for Science and Technology (FCT)
start date: 29-09-2018, end date: 28-09-2021
Due to numerous advantages of lignin and tannins, there is a great interest in developing added value products based on these natural polyphenols. However, their use is still negligible mainly due to the scarce separation techniques available which, in most of the cases, result in low extraction yields, extensive degradation or even undesired chemical modifications. While focusing on the fundamental interactions involved on the biomass dissolution, we foresee the development of newer processing strategies to develop attractive biomaterials such as resins, foams or even single-cell proteins. As the project prioritizes the use of local feedstock of the Algarve region, such as lignocellulose residues (pine and eucalyptus) and carob pod waste, we expect the outcome of it to help reviving the local agroforestry sector.
Project at Łukasiewicz Research Network aculty of Science and Technology, Jan Dlugosz University in Czestochowa, Poland
UNLOCK / Unlocking a new feather bioeconomy for keratin-based agricultural products.
(BBI 2020 SO1 D1/ Resolve supply-chain hurdles for turning residual waste streams into functional molecules for food and/or non-food market applications)
UNLOCK project aims to design and demonstrate of an economically and environmentally sustainable supply-chain for a feather-based bioeconomy which will generate innovative bio-based functional materials for agricultural applications. UNLOCK proposes new keratin-based bioplastics and geotextiles that can provide added functionalities and advantages derived from the use of feather keratin: a) tailor-made biodegradation adjusted to the crops' duration, b) input on organic nitrogen to the soil, c) zero waste generation at their end of life and d) cost competitive materials.
Grant number: 101023306, Funding Agency: EC, start date 01.05.2021 (duration 48 months)
Project at Abo Akademi University
Novel Fiber Surfaces Functionalized by Lignins Refined and Engineered from Finnish Biorefinery Processes (LigninReSurf)
Plastics with many society benefits are widely used for packaging and other applications in our daily life, however, have mostly ended up as for single-use and have accumulated in the landfills, oceans, waterways, and other natural environment and further entered into animal and humans bodies, threatening our health. It was estimated by 2015, human beings have produced 5.7 billion tons plastics and of that, 4.9 billion tons were discarded into the natural environment. Plant biorefinery is a renewable and sustainable alternative to the current petroleum-based industry and thus it is of key importance to address UN Sustainability Goal. Lignin accounts for up to 30% of dry mass of plants, but so far, most of it is burnt for energy.
The LigninReSurf consortium project plans to use the relevant lignin streams from Finnish biorefinery processes as raw materials to apply lignin-refining approaches to achieve well-defined fractions with well-characterized structures. Thus after, lignin copolymers will be further developed. The project will also underline the application of lignin copolymers in tailoring fiber surface. The project is hosted by Åbo Akademi University in collaboration with international partners (BOKU and IEM). The consortium also includes industrial partners from biomass fractionation to energy, chemical, and material producers covering the entire bio-based value chain.
Grant number: 43674/31/2020, Funding agency: Business Finland, start date: 01.01.2021, end date: 31.12.2023


Project at IMT Mines Alès
Agrobranche : Valorization of wood branches from agroforestry in the bio-based materials and chemistry sectors
Agrobranche project investigates the possibility of strengthening the economic model of agroforestry by improving the valorization of intermediate biomass in the fields of bio-based materials and chemistry. Indeed, agroforestry management requires regular pruning of the branches, especially to control shade. The branches thus constitute a resource that can be mobilized throughout the life of the trees. The project aims to:
Qualify the industrial potential of valorization of agroforestry chips in the field of materials and chemistry,
Identify "good quality" agroforestry chips to be produced from the available resource,
Define upstream the production routes of these chips and downstream the dedicated technological routes for the extraction of the fibers and molecules targeted,
Validate the results by testing the implementation of materials / extracted molecules at the laboratory and / or pilot scale.
Funding agency: ADEME, start date: 01/07/2018, end date: 01/07/2022
New Project at CEMEF/Mines ParisTech, Sophie Antipolis
3D printing of hyaluronic acid aerogels as on-demand removable wound dressings (3D-AER-HYAL)
Wound-related health problems will be accentuated in the years to come because of the aging of the population whereby the prevalence of wounds, in particular chronic wounds, will increase. The objective of the 3D-AER-HYAL project is the preparation of on-demand removable, hyaluronic acid-based aerogels obtained by additive manufacturing for application as wound dressings which are capable of releasing biologically active agents. Laurianne Legay has started on March 1st 2021 as a PhD student to work on this highly interdisciplinary project for 3 years. The work will be performed at the Center for Materials Forming (CEMEF) of Mines ParisTech in Sophia Antipolis (France) under the supervision of Dr. Tatiana Budtova and Dr. Sytze Buwalda. Secondments will take place at the Institute of Biomolecules Max Mousseron (IBMM) in Montpellier (France).
Grant number: ANR-20-CE06-0004, Funding agency: French National Agency for Research (ANR), start date: 01/03/2021, end date: 29/02/2024
Project at Institute of Wood Science – Hamburg University
HolzMat3d: Wood-based high-performance materials for 3D printing and thermoplastic production
Principal Investigator: Dr. Julien R.G. Navarro
The project HolzMat3D aims to develop new sustainable materials, made of cellulose fibers and cellulose nanofibrils, and proceed them through 3D manufacturing. The HolzMat3D project is focusing on the chemical surface modification of those raw materials and their processing through numerous 3D manufacturing techniques: Fused Deposition Modeling, Selective Laser Sintering, Direct Ink Writing (gel ink) & Injection molding. The HolzMat3D project include one Researcher position (Dr. J. Benedikt Mietner), 3 PhD & 1 Technician positions.
Grant number: 2220HV024X, Funding agency: Fachagentur Nachwachsende Rohstoffe e.V. (FNR) / Bundesministerium für Ernährung und Landwirtschaft (BMEL), start date: 01.11.2020, end date: 31.12.2023
Faculty of Science and Technology, Jan Dlugosz University in Czestochowa, Poland
Development and implementation of an innovative technology for the production new generation fruit and vegetable products enriched with dietary fibre preparation from potato starch with prebiotic properties for children and youth  (2020-2023)
PI: Janusz Kapusniak
Funding agency: Polish National Center for Research and Development (NCBR).
The PreSTFibre4kids project is coordinated by Jan Dlugosz University in cooperation with the most modern specialist pediatric hospital in Poland, the biggest comprehensive cancer center in Poland, one of the leading juice, nectar and soft drink producer in Poland and one scientific partner. The main goal of the project is to conduct development works, which will result in the development and implementation of the technology of production of unsweetened vegetable and fruit products enriched with a fibre preparation from potato starch with prebiotic properties and acceptable organoleptic and appropriate storage stability by children and adolescents.
More info click here
University of Innsbruck, Research Institute of Textile Chemistry and Textile Physics
Biotechnological Enzymatic Modification of Lignocellulosic Natural Fibres, 2020-2023
PI: Tung Pham
Funding agency: FFG, Austria
The overall objective of the project proposal is to develop a biotechnological enzyme-based modification process for natural lignocellulose stem fibres. Thus, the proposal represents the development of an eco-friendly modification method for European bio-based natural lignocellulosic fibres. The technology will significantly contribute to debottleneck the issue with the fibre softness and processability of stem fibre.
More info click here
BOKU, Austria
Oxidative Modification of Cellulose
PI Potthast, A.
The aim of the planned work is to achieve lean, cost-efficient and green chemical routes to improve the properties of kraft pulp for thermoplastic materials. The cellulose chain is intrinsically rigid, which is one of the causes of its high glass transition and melting temperatures. The offered research targets to increase the mobility of the cellulose chain through oxidation chain cleavage methods, that decrease H-bonds in which the anhydroglucose units are involved and induce a major release of molecular motions within and between the chains.
Lignin Binder
PI Potthast, A.
The aim of the development in the project "Lignin as a binder" is to modify or select lignin (as raw material) in such a way that it can be used alone or in combination as a binder for wood-based materials. Different lignins will be tested and analysed to establish valid structure-property relationships. In addition to the analytical characterisation, special application tests are carried out which can show suitability even outside of an analytical scale.
5D-Click-Druck zur Herstellung von Strukturen mit Mechanischen und Funktionellen Gradient
PI Beaumont, M.
The research hypothesis is the development of a novel gradient printing approach, named 5D Click Printing, combining cutting-edge bioprinting technology with state-of-the-art materials and crosslinking chemistry. This will be realized by using functional nanocellulose and polyoxazoline as ink formulations to produce 3D objects with mechanical (+1D) and functional gradients (+1D). The proposed ink formulations are based on functional cellulose nanofibrils and polyoxazolines.
Mechanical and functional gradients are reasons for the abundance of functionalities and extraordinary mechanical properties in nature. Mechanical gradients are spatial smooth transitions from mechanically weak to strong structures resulting in materials with remarkable mechanical performance. In case of the in vivo cell environment, the extra-cellular matrix, there are not only mechanical gradients present but also functional gradients, such as an increasing concentration of a bio-active molecule in one dimension. These gradients play an important role in the organization of cells into functional tissues and organs. The imitation of these multidimensional structures by biocompatible and shapeable materials in a straightforward way is a critical challenge that will be addressed in this proposal. The research hypothesis is the development of a novel gradient printing approach, named 5D Click Printing, combining cutting-edge bioprinting technology with state-of-the-art materials and crosslinking chemistry. This will be realized by using functional nanocellulose and polyoxazoline as ink formulations to produce 3D objects with mechanical (+1D) and functional gradients (+1D). The proposed ink formulations are based on functional cellulose nanofibrils and polyoxazolines. These materials were chosen because of their established biocompatibilities, printabilities and the resemblance to the two main components of the extra-cellular matrices, fiber-forming proteins and non-fibrous glycoproteins. The functional groups on the polymers were carefully selected to allow gelation by spontaneous click chemistry, which can be conducted in the presence of living cells. The 5D Click Printing technology will be further developed to fabricate multidimensional hydrogels with various functionalities. These gels will be used to assess and compare diverse characterization techniques to establish a methodology to visualize gradients in multidimensional objects. In conclusion, the developed technology will be the first straightforward avenue to shaped hydrogels with functional and mechanical gradients. 5D Click Printing will be used to fabricate, bioinspired and sophisticated tissue models for biomedical application, and to produce graded membranes for chromatographic separation of complex biopolymer mixtures.
Mid Sweden University, Sweden
Can triboelectricity provide more effective respiratory protection against viruses?
From November 2020 to May 2021
Dr Christina Dahlström
Funding agency: Vinnova (Sweden's Innovation Agency) 
A research group at the FSCN research centre, Mid Sweden University will develop more effective filter materials for respiratory protection that can be used to reduce the spread of viruses, similar to Cov-SARS-2, to counter pandemics. The respiratory protection is based on cellulose material with triboelectric properties, which makes it easier to breathe than with today's respiratory protection.
More info click here
Illustration: Fredrik Dahlström.