Bioeconomy Innovation Day: Advancing Resource Efficiency and Value Creation in Europe
The Bioeconomy Innovation Day – Advancing Resource Efficiency and Value Creation in Europe – is organised in cooperation with the Swedish research collaboration platform Treesearch, FinnCERES materials bioeconomy Flagship from Finland, and the B2BE facilitator, a matchmaker in the Flemish bioeconomy.
The event will take place on 16 November, 2023, at 9:00-18:00 (CET) in Brussels, at the Marriott Hotel Grand Place.
For more information, please refer to this webpage.
EPNOE International Polysaccharide Conferences
The EPNOE International Polysaccharide Conferences are held every two years and are jointly organized with other professional societies, including the Cellulose and Renewable Materials Division of the American Chemical Society (ACS) and the Cellulose Society of Japan. The programmes consist of multiple parallel sessions, each on specific topics, and are designed for researchers from academia and industry to present and discuss their latest results.
Junior Scientists Meetings
The meetings are held once every two years, alternating with the international conference. They are designed to offer young researchers (MSc, PhD students and early-stage postdocs*) the opportunity to present their work via lectures and posters, and also network among themselves. Senior staff from academia and industry are welcome to attend and offer the benefit of their knowledge and experience. The meetings also serve as a platform for senior staff to identify potential recruits among the emerging talent.

5th EPNOE international Junior Scientist Meeting,
8-9 September, 2022, Aveiro (Portugal) 
4th EPNOE International Junior Scientists Meeting, 3-4 February 2021, Online Meeting
3rd EPNOE International Junior Scientists Meeting, 14-15 May 2018, Maribor (Slovenia)
2nd EPNOE International Junior Scientists Meeting, 13-14 October 2016, Sophia Antipolis (France). Download Book of Abstracts.
1st EPNOE International Junior Scientists Meeting, 19-20 January 2015, Wageningen (Netherlands). Download Book of Abstracts.
Early-stage postdocs are defined as those who obtained their PhD within the previous three years. 
Workshops are small-sized events centered on individual topics, directed towards both research and industry, and are designed to allow for discussions and exchange of information.
Polysaccharides In Drug Delivery – On The Road to Innovation!
27-28 October 2022, Rome

Challenges and opportunities to promote circular bio-economy

23-24 November 2021, online
Modern analytical approaches in biopolymer characterization
26-27 February 2020, BOKU Vienna (Austria)
More Information
Polysaccharides as Sweet Spot for Innovation 
17-18 September 2018, KU Leuven (Belgium).
More information
Towards flame retardant biopolymers and biocomposites: current research strategies, scientific barriers and perspective applications 
16-17 OCtober 2018, Centre des Matériaux d'IMT MINES Alès (France).
More information
Summer Course Glycosciences
17th European Training Course on Carbohydrates
The Summer Course Glycosciences, 17th European Training Course on Carbohydrates is taking place from 11 to 15 June 2023, in Wageningen, The Netherlands.
Organised by VLAG Graduate School, Wageningen University and Research, University of Groningen and Leiden University Medical Center, this course combines general introductions in the field of carbohydrates and glycoproteins with in-depth sessions, giving participants the opportunity to focus on specific interests without losing the broad perspective. In addition, interactive elements are part of the programme (e.g. poster sessions, interviews with lecturers). These aim to encourage networking between participants and lecturers.
The course is at graduate level and it is a must for those working in academia, research institutes or industry who want to refresh and deepen their knowledge on carbohydrates and PhD candidates with a project related to carbohydrate chemistry, biochemistry, biology, chemical technology or food science. Participants are encouraged to present a poster.
For more information, read here.

The XXI B-MRS Meeting is a large forum taking place at the Ruth Cardoso Cultural and Exhibition Center in Maceió-Alagoas (Brazil), from 1 to 5 October 2023. Among the symposia, the Polysaccharide-based Materials Symposium aims to address timely topics within the Polysaccharide-based materials area.
The deadline for abstract submission is Monday, 17 April.
Click here for more information.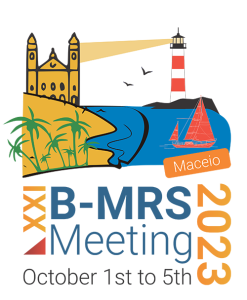 The 8th EPNOE International Polysaccharides Conference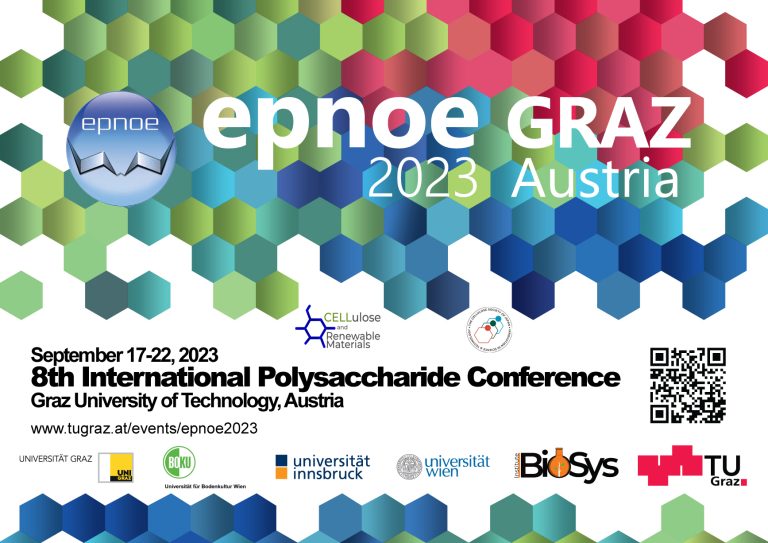 The 8th International Polysaccharide Conference will take place from 17 to 22 September 2023, at the Graz University of Technology (Graz, Austria).
The main goal is to gather academia and industry stakeholders and encourage a conversation about polysaccharide-related R&D and applications. Through the years, this occasion has become one of the largest events in the field of polysaccharides, bringing together researchers from all over the world.
Registrations are open until
31 August 2023
. For more information, please read
here
.
Abstract submission is possible until
15 April 2023
. Please read the instructions
here
.
The 5th International Cellulose Conference
The International Cellulose Conference (ICC) is held by the Cellulose Society of Japan every five years since 2002.
The next one will take place at the International Conference Center Hiroshima (Hiroshima, Japan), from 26 to 28 September 2023.
This face-to-face meeting will be a great opportunity for scientists seeking new concepts and networking opportunities across the borders.
Abstracts can be submitted until 30 April, 2023. Early-bird registrations are possible from 1 April to 30 June, 2023.
XXVIII Conference of the Polish Chitin Society
The XXVIII Conference of the Polish Chitin Society "New Aspects on Chemistry and Application of Chitin and its Derivatives" will be held at the Hotel Orle Centrum Konferencyjne, in Gdańsk (Poland), from 25 to 27 September, 2023.
The Conference will be in English.
The deadline for registration is 15 July. Click here to register, and here for more information.
Congresso Nazionale Societa' Italiana Biomateriali 2023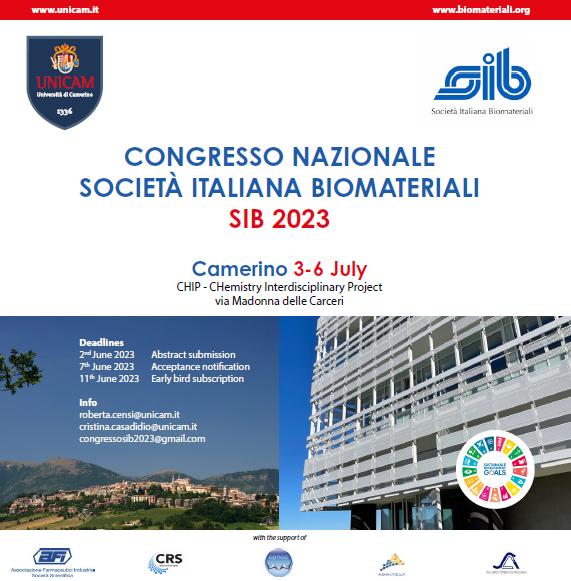 The Societa' Italiana Biomateriali Congress (SIB) will take place on 3-6 July, in Camerino (Italy).
The event has been sponsored by EPNOE and aims to enhance the development of innovative platforms based on biomaterials derived from innovative and sustainable resources. All the aspects of the biomaterial science are covered ranging from novel production methodologies, complex assembly, biomaterial derivatisation, pharmaceutical and clinical application.

The Organizing and Scientific Committee invites you to participate and present your oral and poster contributions, as well as a 5-minute PhD student competition pitch in the following topics:

• Additive Manufacturing
• Scaffold-based tissue engineering
• Drug and gene delivery
• Nanocarrier systems
• Wound healing
• Cell-material interactions
• Bioceramics
• 3D-Printing Technology
• Tissue and organ models
• Biomaterials for antibiotic-resistance
• Biomaterials for tissue regeneration
• Pre-clinical and clinical applications
Read the full programme
here
.
For more information, please read
here
and check out the event's LinkedIn profile
here
to stay up-to-date!
EPNOE Research Roadmap 2040
Launch Event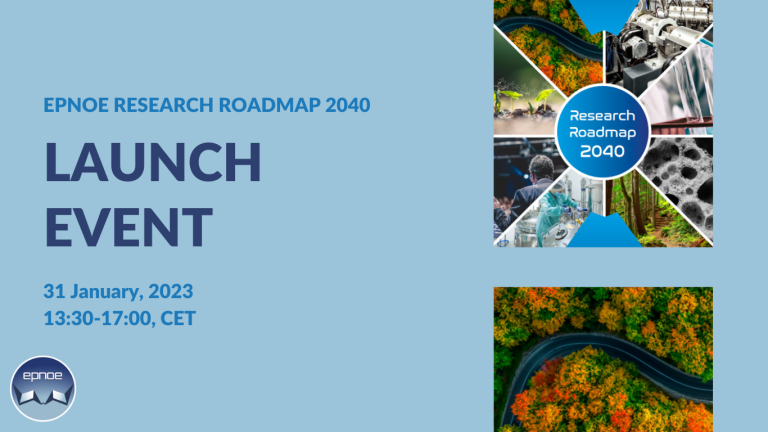 EPNOE Research Roadmap 2040 launch event will take place on 31 January 2023, from 13:30 to 17:00 (CET) at the Thermotechnisch Instituut, Kasteelpark Arenberg 41, 3001 Heverlee (Leuven, Belgium).
Agenda
13:30 – Coffee and Registration
13:50 – Welcome to KU Leuven  
14:00 – Presentation of EPNOE Association
Pedro Fardim, President of EPNOE, Professor at KU Leuven
14:10 – Introduction of EPNOE Research Roadmap 2040
Karin Stana Kleinscheck, VP EPNOE Research, Professor at TU Graz, Austria
14:20- Presentation of EPNOE Research Roadmap 2040 by Chairs and Co-Chairs:
Materials and Engineering
Anna Roig, Institut de Ciència de Materials de Barcelona (ICMAB-CSIC), Spain
Magnus Norgren, Mid-Sweden University, Sweden
Gleb Yakubov, Nottingham University, UK
Már Másson, University of Iceland, Iceland
Basic Sciences- Chemistry, Biology and Physics
Tanja Wrodnigg, TU Graz, Austria
Olli Ikkala, Aalto University, Finland
Tiina Nypelö, Chalmers, Sweden
15:00 – Future Perspectives of Circular Bioeconomy in Europe – Round-Table Discussion
Roman Brenne, European Commission, Brussels
Harry Raaijmakers, Royal Cosun, The Netherlands
Brigitte Hasewend, European Sustainable Energy Alliance (ESEIA), Brussels
Karin Stana Kleinschek, EPNOE Association, TU Graz, Austria
Moderator: Katariina Torvinen, EPNOE Association, VTT, Finland
16:00 – Networking Reception – All Attendees
17:00 – End of the Day
The event is free of charge, but registration is compulsory via this link.
Deadline for registration: 27 January 2023.
A no-show fee of 100EUR will be invoiced to registered participants who did not attend the event.