Practical Info & Registration
Submission of abstracts: April 30th, submissions are now closed
Early bird registration deadline: July 15th
Final Registration date: August 19th 
| | | |
| --- | --- | --- |
| Registration category | Early bird fees (till July 15th) | Regular fees (from July 16th) |
| EPNOE Member | 150€ without VAT | 200€  without VAT |
| Non-EPNOE member | 200€ without VAT | 250 € without VAT |
| Accompanying person | 100€ without VAT | 100€ without VAT |
 Registration fees include:
Full registration fees include attendance of all sessions, electronic book of abstracts, coffee-breaks, two lunches and the conference dinner.
Early bird registration deadline till July 15th.
Registration deadline August 19th, 2022
Note: Registration will be valid only after payment of registration fee
The 5th International EPNOE Junior Scientist Meeting 2022 will be held at the University of Aveiro, Aveiro, Portugal.
Aveiro is one of the most beautiful regions in the country with beaches, mountains, rivers, and a lagoon (Ria de Aveiro). Aveiro is the third Portuguese district with the largest number of municipalities, and it brings together industry, business, tourism, sports, architectural, natural heritage, and a university that is a great example of contemporary Portuguese Architecture with most of the buildings designed by some of the most important Portuguese contemporary architects. In terms of gastronomy, Aveiro has some delights from the sea to offer, namely shellfish, fresh fish, and eels, and the delicious sweet ovos moles.
www.visitportugal.com/en/content/visit-aveiro
www.cm-aveiro.pt/cmaveiro/uploads/writer_file/document/337/mapa_pedonal_2014.pdf
The conference will be hosted at the University of Aveiro.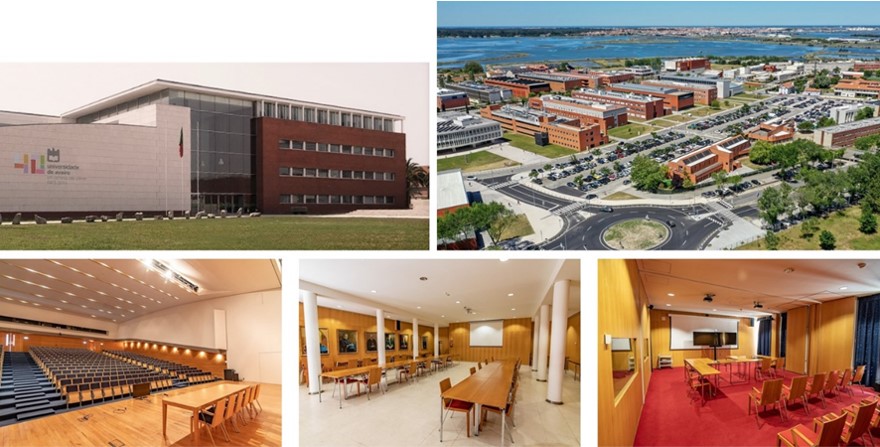 How to get there?
BY AIRPLANE
The Oporto Airport is the best choice to arrive by plane. From there, it is possible to take a Taxi (about 30€), Uber (15€), or the E line of Metro do Porto (subway), by buying the Z4 Ticket (2.00€) to the Campanhã train station (41 min). There are train connections from Porto to Aveiro every hour: Urbano (1 h journey: 3.55€) or IC/Alfa (30 to 40 min journey, from 12.15€ to 15.10€).
Arriving at the Lisbon Airport is another choice. From there, it is possible to take a Taxi (6 to 8€), Uber (3.55€), or the Red line of Metro de Lisboa (subway) (1.50€) to the Oriente train station. There are train connections from Lisboa to Aveiro every hour: IC/Alfa (2h to 2h30m journey, from 21 to 28€).
BY TRAIN
Aveiro's railway station is located in the city's centre, with urban/regional trains and fast services to all main cities in Portugal. For more information on tickets and schedules just go to www.cp.pt.
BY CAR FROM AIRPORTS
It takes between 45 min to 1 h to travel from Porto to Aveiro, using either the A1 or the A29 highways. Travelling from Lisbon will take about 2 h, using either the A1 highway or, the best choice, the A8 and A17 highways.
If travelling by car, pay attention to Electronic Tolls: Some highways in Portugal have electronic tolls exclusively. All lanes with electronic tolls are properly identified using the reference "Electronic toll only". For more information, please go to www.portugaltolls.pt/en/web/portal-de-portagens/home.
List of hotels and hostels in Aveiro:
Meliá Ria Hotel & Spa «««« (Cais da Fonte Nova, Lote 5, 3810-200)
https://www.meliaria.com/pt-pt/
Hotel As Américas «««« (R. Eng. Von Haff 20, 3800-176 Aveiro)
https://www.hotelasamericas.com/
Hotel Afonso V ««« (R. de Dr. Manuel das Neves, 3810-101 Aveiro)
https://www.hotelafonsov.pt/index.php/pt/
Hotel Imperial ««« (R. Dr. Nascimento Leitão 1, 3800-108 Aveiro)
https://www.hotelimperial.pt/pt/Menu/Hotel.aspx
Hotel Aveiro Center ««« (R. da Arrochela 6, 3810-052 Aveiro)
https://www.hotelaveirocenter.com/hotel/index.php
Hotel Jardim ««« (094, Av. de Dom Afonso V, Aveiro)
https://www.hoteljardim.pt/pt-pt
José Estêvão Hotel «« (R. José Estevão 23, 3800-202 Aveiro)
https://www.joseestevao.com/
Suites & Hostel Cidade Aveiro (R. do Príncipe Perfeito 18, 3810-151 Aveiro)
https://www.hostelcidadeaveiro.pt/pt-pt/hotel-0
Aveiro Rossio Hostel (R. João Afonso de Aveiro, 1, Largo do Rossio, 3800-198 Aveiro)
https://www.booking.com/hotel/pt/aveiro-rossio.pt-pt.html
HI Aveiro – Pousada da Juventude (R. das Pombas, Edifício IPDJ. 3810-150 Aveiro)
https://www.booking.com/hotel/pt/pousada-de-juventude-de-aveiro.pt-pt.html